Medical School Private Loan Consolidation
---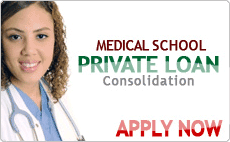 Private Medical Student Loan Consolidation With Medical School Loans
Consolidating your outstanding private medical student loans with Medical School Loans will allow you to have just one new loan, with one low monthly payment, even if your private medical student loans are held by different, multiple lenders. Medical School Loans offers competitive interest rates and repayment options.
APPLY NOW
Private Medical School Loan Consolidation Benefits from Medical School Loans:
Low Variable Rates
Flexible Repayment Options
No Prepayment Penalties
Lower Monthly Payments with Extended Term
30 year maximum repayment term, regardless of your loan balance
Fast, Dependable Customer Service from our Agents
When you apply for a Medical School Loans Private Student Loan Consolidation, you'll get 30 days free access to HealthcareCrossing! That's a $19.95 value.
Medical School Loans also offers appealing borrower benefits, such as an immediate 0.25% interest rate reduction when you sign up to pay with our automated debit program.
Disclosures:
CIT Bank, Salt Lake City, UT is the originating lender of the Medical School Loans Private Consolidation Loan. CIT is a registered service mark of CIT Group Inc.

Tell A Friend
---

The Healthcare Career Resources column is presented by HealthcareCrossing, America's leading job search site dedicated to getting jobs for healthcare professionals.



Save Money with a Private Student Loan Consolidation from Medical School Loans


By Brooke Heath

Even as a young child practicing medicine on your stuffed animals, you knew that you were destined to become a physician. But the road to obtaining your medical degree takes more than just the ability to mend the imaginary wounds of a teddy bear.

+ read more